Following the instability of the former administration, experts have high hopes for the Biden administration. While some changes, such as the extension on the eviction and foreclosure moratorium, are obvious, others remain to be seen. Overall, experts predict that the real estate market should benefit from the stability that the Biden administration will bring.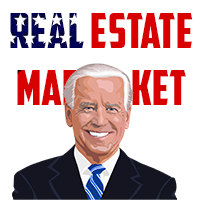 The Foreclosure Moratorium
It is no secret that the pandemic has caused many people to struggle to pay their mortgages or rent. The government had placed a temporary ban on foreclosures and evictions, but this is set to expire at the end of January. Biden hopes to extend it until at least the end of March.
This was actually one of the first executive orders Biden made. He called on the relevant government agencies to extend the moratorium on both foreclosures and evictions. Although he called for the ban to last until late March, it is implied that he may call for further extensions depending on the state of the economy.
What It Means for Those in the Real Estate Market
Depending on your positioning in the real estate market, this will affect you slightly differently. Renters or homeowners who are struggling to make monthly rent or mortgage payments get a bit of relief. However, there is no rent or mortgage forgiveness, so they will still be expected to make up the missed payments when the moratorium ends. This is likely to be very challenging. However, there is $35 billion in relief for rent (and utilities and homelessness) in Biden's proposed COVID relief bill.
For lenders, investors who look to buy foreclosures, and landlords, this is not quite positive news. Landlords are temporarily without the income from their rental units. This can be particularly challenging for those with fewer real estate investments who rely on the rental income. At the very least, these landlords can still expect to receive the owed rent in the future.
For investors searching for properties to buy, the moratorium on foreclosures means that there are temporarily fewer chances to buy foreclosed properties at great discounts. However, many homeowners may still consider selling their homes for a lower price to avoid getting too far behind on their mortgage.
Other Likely Changes That Will Affect the Real Estate Market
As mentioned, experts are also looking ahead and predicting how some of President Biden's planned policies might affect the real estate market.
The SALT Cap
One of President Trump's changes was the SALT cap. This reduced the deductions that homeowners could include on their taxes, specifically for mortgage interest payments. President Biden has indicated he will remove this cap. That will provide tax benefits to homeowners, especially those in areas with high property tax rates, like the suburbs.
Stability and Market Confidence
The Trump Administration was known for being unstable, with a constantly changing roster of officials and policies. This led to uncertainty and hesitation to invest in real estate. The Biden administration will likely counter this with the stability it brings. The result should be more confidence in the market, resulting in more movement and opportunities.
Changes for High-earning Real Estate Investors
Most of Biden's policies should be helpful for individuals and smaller players in real estate. However, larger players will likely lose some of the benefits they had under Trump. For example, Trump's 1031 exchange for investors that make more than $400,000 annually is expected to be eliminated.